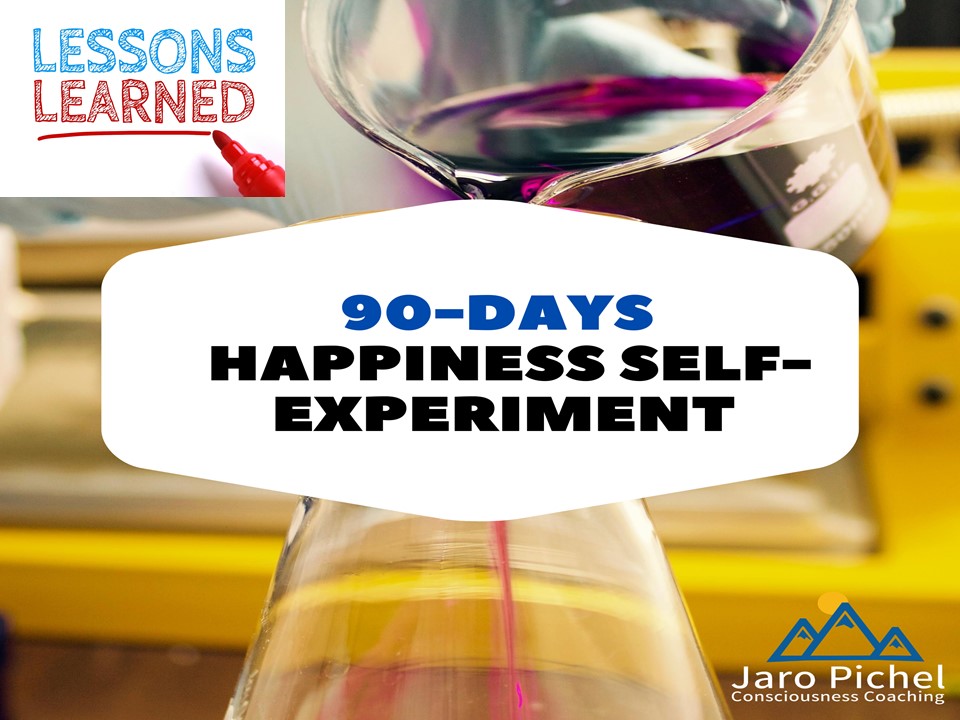 What makes us truly happy? In the past months, I've been experimenting with this and other happiness-related questions and shared my experiences with you in eleven blog posts. What did I find out? Did I find the key to happiness? Let me share my conclusion and left questions in this post.
Do we need to be always in a good mood in order to experience happiness?
What do you imagine if you think of happiness? Naturally, we think of smiling, enthusiastic, energetic people who live their life to the fullest.
Is this true happiness? Is this what we all long for? Being always in a good mood and energized? I don't think so! Even stronger, I think such a craving is counterproductive and will cause much trouble in the long term. Let me explain why…
During the cold winter months, I've been going through a difficult time in my life. I experienced strong feelings of loneliness and emotional exhaustion. Going out of bed felt much more draining, and starting the workday in my home office felt sometimes like a big struggle. This was also related to the ongoing coronavirus pandemic that reduced my social interactions. Does it mean that I was not happy? Definitely not – I became much more sensitive to my inner world, more accepting with all feelings that want to show up.
In hindsight, being able to feel these emotions fully, I consider myself much happier than before the experiment.
Using self-compassion and acceptance as guiding principles enabled me to acknowledge the full spectrum of feelings. I wrote about these two concepts in blog post 2 and blog post 3.
The positive thinking trap
At some point in our life, we will hold a self-help book in our hands with 5 steps that will bring us happiness, fulfillment, and bliss. That might be even true for a moment. When I listen to motivational speakers like Tony Robbins, I feel empowered thereafter. I feel that I can change the world only through my positive energy and mindset. The problem that arises is that we imagine happiness as something to be achieved. Like holding a degree – after hard work, we will receive the reward. As such, we approach happiness as a "thing" that can be obtained, while in reality, happiness is a constant process, a lifelong journey you could say. In other words, there is no shortcut in our personal development process – I wrote about some of the myths around happiness and how they create misconceptions.
Am I going to be a happy person after a 6-month experience?
I won't make the promise that your life will turn upside down and that you will find the key to happiness in just 6 months. From my personal experience, however, I paid greater attention to what happiness means to me, to the things that invite happiness into my life, such as cultivating gratitude, forgiveness, and flow. In line with evidence from research and my own experience, following these practices will bring tremendous benefits such as an increase of positive emotions, self-confidence, stress reduction, and several other physical and emotional improvements.
Be present with yourself and others
The previous months have been stressful and challenging for all of us. I found myself more stressed and pressured than usual. In a blog post on how to live mindfully in stressful times,
I've been exploring the value of being mindful during uncertain events. Asking questions to move our attention to the physical and emotional sensations brings calmness and curiosity back into our experience.
What's happening in my body and mind when uncertainty arises?
Where is the feeling of uncertainty present in my body?
Where else is insecurity present in my current life?
Can I think of an alternative response to the feeling of insecurity?
The ability to express our boundaries, and become aware of "what we want", can be a game-changer in any kind of relationship. In other words, being present with our own needs and wishes is also the prerequisite for having intimate relationships with others, as I wrote about in an earlier blog post.
Did I find the key to happiness?
Now coming back to the question: "did I find the key to happiness?". As I am writing, it becomes clear to me that there is no "one key" to happiness. There are several keys, all contributing to the joy and richness of life. Think of happiness as a set of keys.
One day, you only use the key(s) for entering the door of your apartment. On other days, you are going by bike and need the key for the locker. The other day you are going to the garage and take the respective keys with you. The same applies to happiness. On some days, starting the day with a little meditation, drinking enough water, and meeting up with friends can do the magic. On other days, practicing forgiveness, drawing your vision, or having an intimate moment with someone will make your day much richer. The more you practice the traditions and techniques of happiness, the bigger your set of keys will become – allowing you to choose the right key in the right moment.
Closing words
I'd have lied if I say writing these blogs and keeping the routine of publishing them was easy. There were moments where I would have loved going back to old habits, just dropping the experiment. Luckily, I found a way to approach this "journey to happiness" with a sense of kindness and appreciation. This was very much related to the notion that "happiness" is not something to be achieved but to be explored. By walking the journey, I found the joy and peace I was longing for, not in reaching the end of the trail (if there is even one).
I'm still dancing through life like I started this journey. It's our choice whether we fight or dance with our inner dragons – I choose to dance with them! 😉
__
Do you feel a longing to become happier yourself? Are you interested in diving deeper into what makes you truly happy in the long run? You can contact me via coaching@jaropichel.com Stay updated for new blog posts by following me on LinkedIn or Instagram @jaropichel_coaching.